Available Chihuahua Pups

We register our puppies with APRI (America`s Pet Registry Inc.), CKC(Continental Kennel Club)
We will only be using AKC Registration on a select few.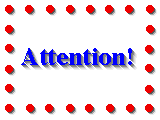 We accept payments with a money order
Western Union, Wire Transfers,or thru Puppy Escrow.
(Pay Pal will only be used for the deposit,
you must add 3.5 % to the total amount.)
For a non-refundable deposit of $100
I will hold any pup available for you.
The $100 is deducted from the total cost of the pup..
Shipping is available for an extra fee of $250.00
If you need diapers for your pet ...